Overview: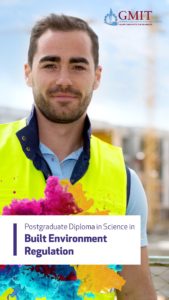 The programme aims to afford advanced experience, knowledge, and training to fulfil, in part, the onerous and challenging roles, duties and responsibilities associated with a range of Built Environment Regulations in the Irish Construction Industry.
The master's degree programme aligns with the Ireland Annual Review 2021 (AECOM, 2021) in that it will exemplify digitisation in the execution of its teaching and learning remit and in the incorporation of Building Information Modelling (BIM) contracts in the Introduction module and within the research modules. It encapsulates carbon reduction requirements in the modules relating to the building fabric, building structure, energy conservation, services and ventilation. It incorporates modern methods of construction, particularly in the Part A module, and it provides a 'route to a resilient tomorrow' for built environment practitioners, building control and for anyone performing a regulatory role or roles under the Built Control Act (Government of Ireland, 1990).
Looking to the future, the Climate Action and Low Carbon Development (Amendment) Bill (Department of the Environment Climate and Communications, 2021) will consolidate emphasis on regulation compliance in the context of a more future-proof, transformed economy. Circular economy investigations are introduced in the context of building structures and building fabric on the master's degree programme.
CPD Approved