Course Overview: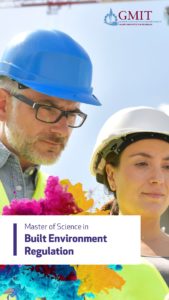 The programme aims to afford advanced experience, knowledge, and training to fulfil, in part, the onerous and challenging roles, duties and responsibilities associated with a range of Built Environment Regulations in the Irish Construction Industry.
This master's degree programme is designed for a multidisciplinary cohort across the built environment disciplines e.g. Architecture, Engineering, Building Surveying, Architectural Technology, and Construction Management, among others.
A multi-disciplinary cohort will be beneficial to the master's degree programme as it will provide a cross-pollination of ideas, shared experiences and appreciation for each other's roles and responsibilities in the Built Environment. It will also be beneficial to lifelong learners and more experienced professionals as Continuing Professional Development, up-skilling, retraining, and as a refresher course. Furthermore, the programme can be undertaken on a module-by-module basis, if so desired, by accumulating credits. Alternatively, a programme of shorter duration can be commenced, with the view to continuing to complete the full Master's degree programme at some point in the future. This flexibility is designed to accommodate an adult working population.
CPD Approved