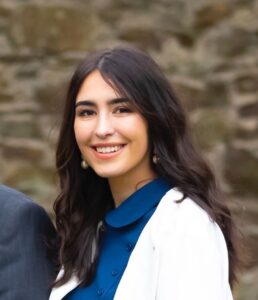 Before I joined the SESYM course in Hanze University, Groningen, I was completing a postgraduate course in Clinical Neuropsychology and working part time in a Business Management Systems company. I had always been infatuated with my contribution to the energy transition and sustainability movement as a whole. This is what drove me towards change and it was the beginning of my career in sustainable energy.
My drive for studying abroad began with my Erasmus I completed whilst studying an International Arts degree in Waterford Institute of Technology. I knew I always wanted to choose a course that offered me the chance to travel when studying and that was a huge factor that drove me towards the SESYM course, the fact that you can complete your Masters Degree with a specialisation diploma from a partner university abroad is a huge plus and broadens your learning experience within the Master's Degree
An amazing aspect of the SESYM course is it offers not only a full theoretical overview into the economic, social and technical aspects of the energy transition and sustainable energy management, it also focuses on the practical elements. Whilst studying the SESYM course, even though online, I was introduced to a vast network of professionals whom I knew would support me not only in learning about the field but also in transitioning into a professional myself in the field.
The masters course itself was small and I got to connect with students from all over the world. Which only betters your experience as you learn the situation from different cultural backgrounds and expand your network internationally. I felt my international communication skills were enhanced as a result and somehow, I even managed to learn some Spanish and achieve a level B certificate in Dutch along the way.
Besides this, the craic and general motivation towards 'contributing to the bigger picture' atmosphere echoed through the entirety of the course and we all really felt a part of something. This feeling was even stronger when it came to presenting our thesis projects to the Association of European Renewable Energy Centres in Brussels amongst the parliamentary buildings at the end of the course.
The SESYM course overall is packed with opportunities to allow you to flourish into a profound and recognised professional in the field. You will feel a strong level of support from start to finish, be it from past students, lecturers, energy professionals etc. whom are involved in the alumni, you will never feel alone. Still, I am part of the SESYM course although I completed my course in December 2021 and now working as a technical writer for an Energy Management Software company in Dublin, Ireland.
For more information and application details for this years programme here